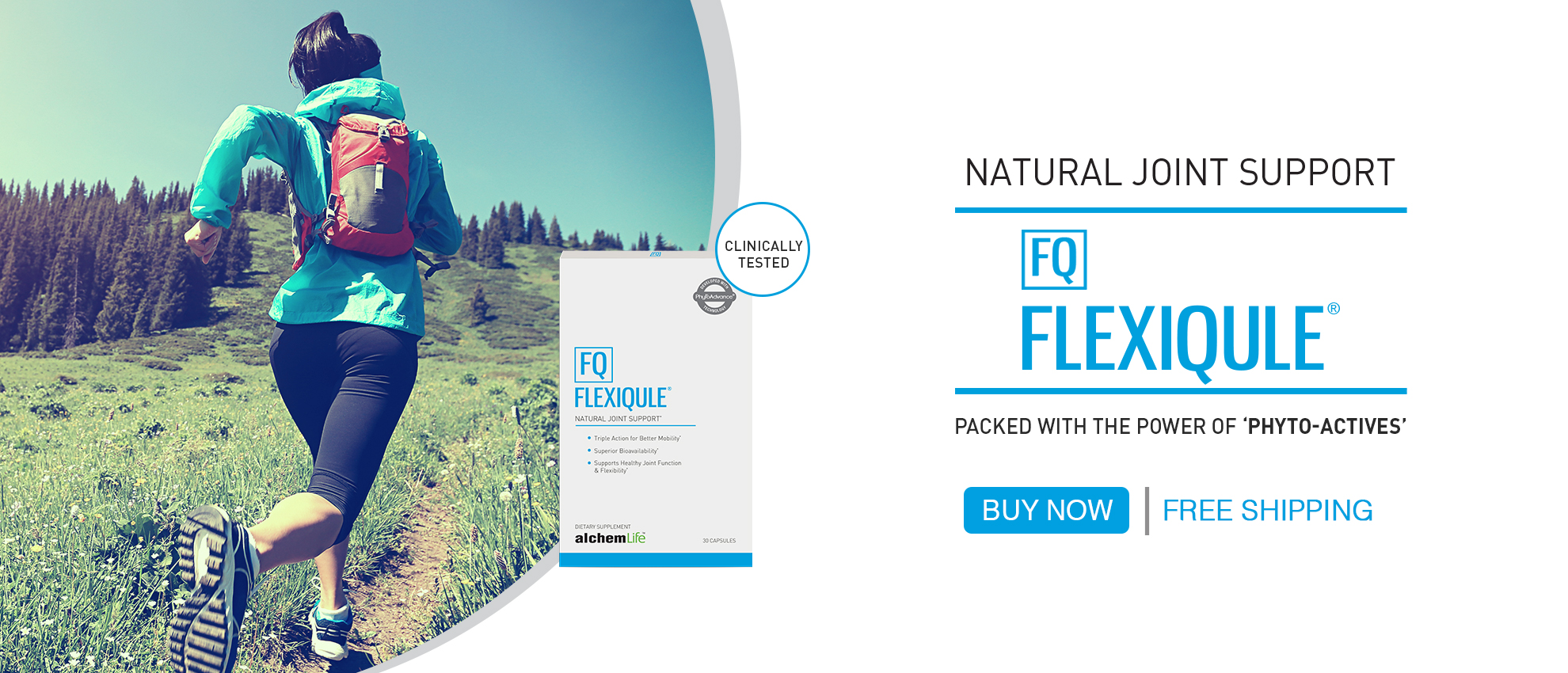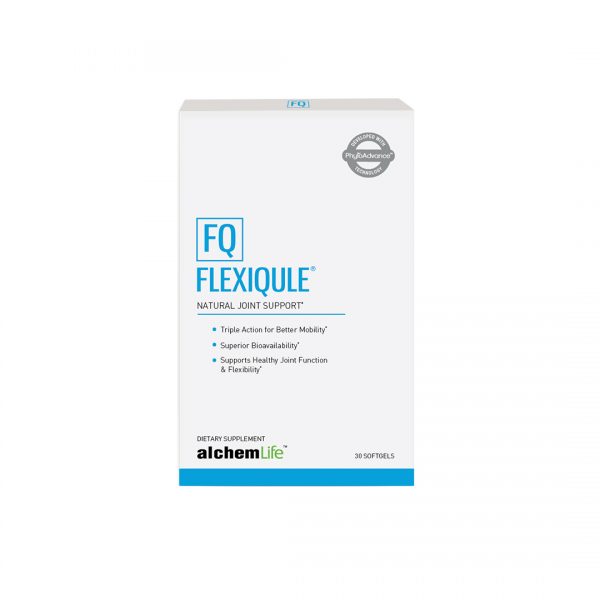 FlexiquleTM
Natural Joint Support and Inflammation Relief Supplement – Featuring Boswellia and Ginger for Pain and Soreness
Combines the POWER of nature and revolutionary science to bring you natural joint care and joint support. Made with powerful and safe ingredients with a specially processed blend of concentrated Indian Frankincense (Boswellia PhytoExtract®) and Ginger.
FlexiquleTM is a clinically tested herbal joint supplement that is based on 100% natural active ingredients*
Our formula of Boswellia and Ginger helps to support normal joint function and mobility while reducing inflammation*
Designed to potentially help common issues such as knee pain, back aches and general joint pain for men and women*
FlexiquleTM is both Gluten and Sugar Free*
What makes Flexiqule Different than other products?
There are plenty of effective plant extracts and formulas for joint support and inflammation control. However, many extracts are incomplete and are stripped of the other synergistic components in an effort to concentrate one active phytonutrient. FlexiQuleTM has superior bioavailability with potential analgesic, anti-inflammatory, and anti-arthritic properties*. FlexiquleTM has been developed using AlchemLife's proprietary PhytoAdvanceTM technology, which is backed by over 75 years of research and development. It allows products like FlexiquleTM to provide beneficial health support through the use of synergistic extracts to ensure absorption. FlexiquleTM is also evidence-based and backed by multiple clinical studies (Minerva Med. 2014 Dec;105(6 Suppl 2):9-16).
Power of 'Phyto-actives'
FlexiquleTM is packed with 'Phyto-actives' (most powerful active ingredients in medicinal plants) of Ginger and Boswellia. These 'Phyto-actives' have been extracted using Alchemlife's proprietary plant molecular extraction technology called PhytoAdvance® which is backed by over 75 years of R&D. It is the power of these natural 'Phyto-actives' that helps FlexiquleTM deliver clinically tested efficacy with no side effects seen.
Ginger and Boswellia
Ginger has shown to be potentially beneficial for health issues ranging from digestive problems to general inflammation. One of its components, gingerol, has been compared to some over-the-counter medications commonly used to increase joint mobility in clinical research. In addition, other phenols found in ginger may aid in reducing swelling and supporting healthy joints. Ginger also works in a complementary fashion with Boswellia to maximize joint function. Boswellia, also known as Indian frankincense, is an herbal extract taken from the Boswellia Serrata tree. Known for its resin, Boswellia has been used for centuries in Asian and African herbal remedies that may aid with inflammation reduction*.
Testimonials
"I have always believed in hard work. But recently I started feeling a little stiffness… in my joints. Became a little hard to write, to type, to sign things. But then someone told me about FlexiquleTM. It's natural, and it's not like other medicines because you can take it all your life."
"You know, after arthritis set in moving around has been difficult. I needed help, doing everyday tasks. You know, it's FlexiquleTM that got me back on my feet. With its natural ingredients there's no worry about side-effects. Two months into FlexiquleTM and my husband is finally sleeping in."
"I used to love the game of golf when I was younger. But with my age and stiffness, I can feel my game withering away. And then, I started taking FlexiquleTM. The ingredients are natural and therefore, I know there are no side-effects. With FlexiquleTM, I feel I am back on par."
"For a long time, getting around with arthritis had been an issue. These joint pains made everyday tasks very difficult. But then I found FlexiquleTM. It's natural so I never need to worry about the side-effects. Now, with FlexiquleTM in my life, nothing is out of reach."
"After taking the capsules for a month my joints have improved immensely. Pain is reduced, my mobility has improved and I feel a lot stronger during activity."
"I have taken the product for a month now and I have noticed the difference in using this product – it's not only natural but a product that I believed worked for me."
Superior Science with Clinically Tested Efficacy
Superior Science with FlexiQuleTM has been developed using AlchemLife's PhytoAdvanceTM technology for superior absorption to naturally support your joint health*. This technology uses science and precision to extract plant actives, resulting in products that have superior bioavailability and thus are potentially more effective than usual plant supplements*.
AlchemLife® combines 75 years of knowledge, experience and trust with the power of nature and science to bring you products with unmatched safety and quality. Our botanical ingredients are nature's support for health and wellness.
Clinical White paper report and Practitioner program available. Internationally published clinical studies
Why FlexiquleTM Works
Joint pain is a problem affecting millions, including otherwise healthy, active adults. Whether it is due to injuries or chronic conditions like arthritis, persistent, recurring joint pain can significantly impair mobility, hinder athletic performance and degrade your overall quality of life. Several options are available today, but many them have other unwanted side effects on the body.