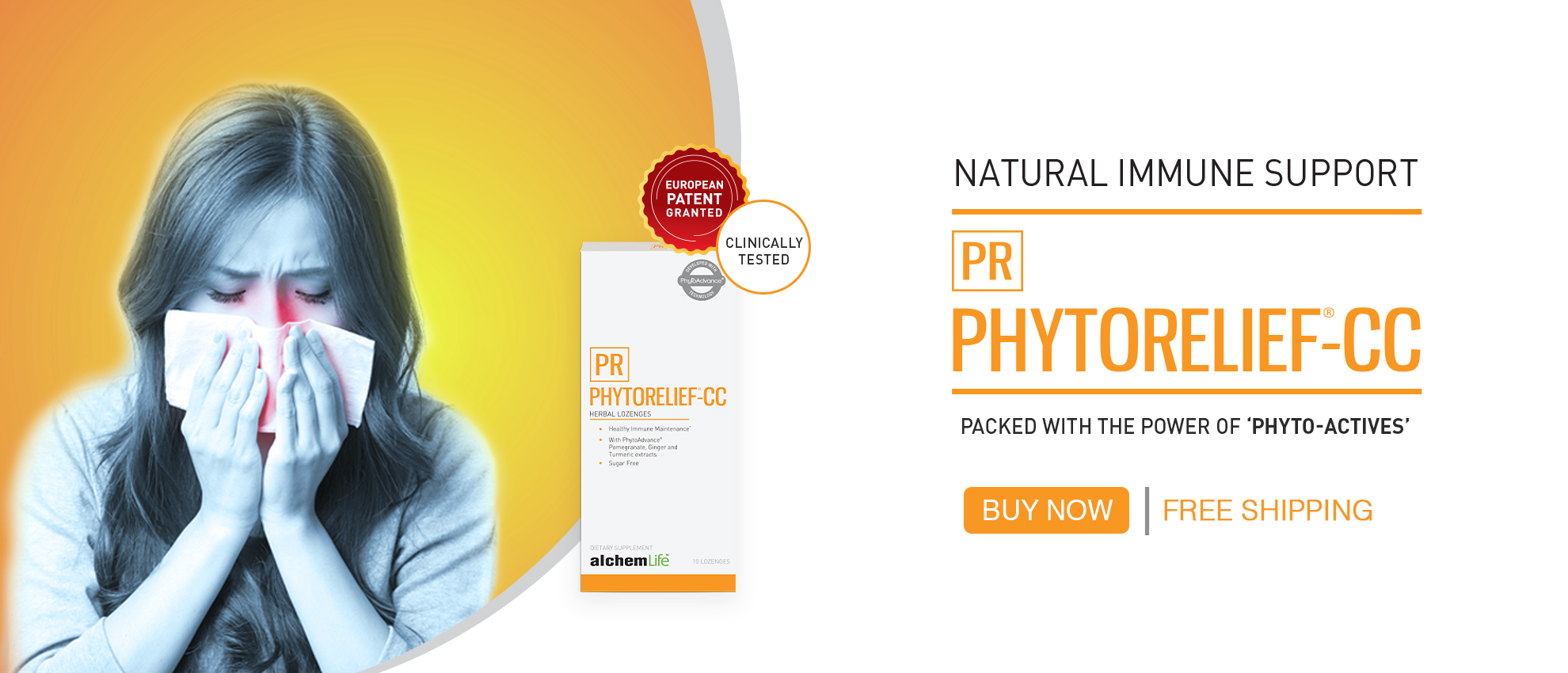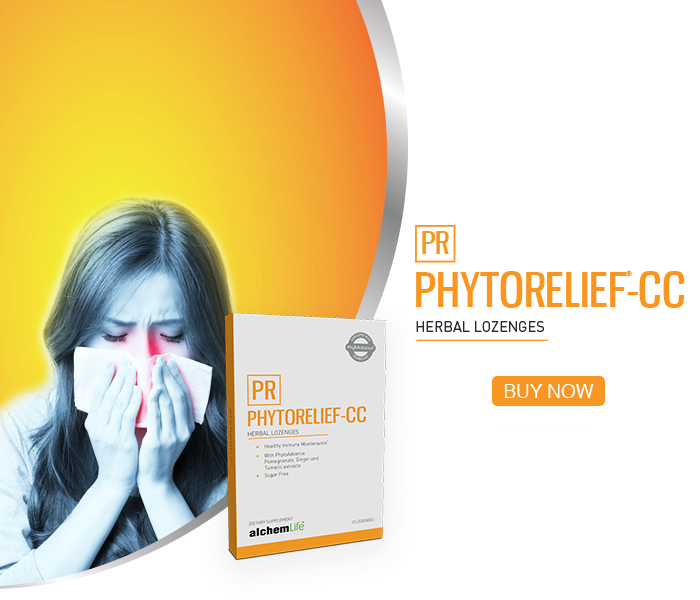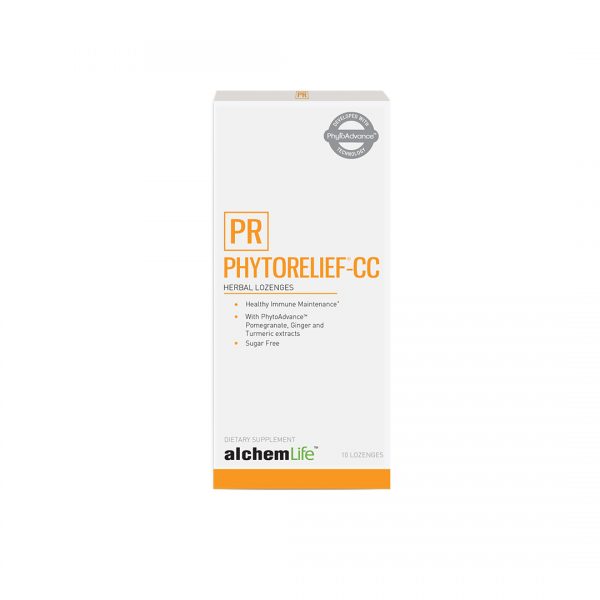 PhytoRelief-CC®
Natural Cough and Cold Relief – Featuring Ginger, Turmeric and Pomegranate Extracts to naturally support a Healthy Immune System*
PhytoRelief®-CC is a natural supplement designed to be a complete cough and cold support remedy using natural active ingredients*
Clinically researched and shown to have potential benefits in reducing the symptoms, duration, and occurrence of colds and flu*
Features our proprietary PhytoAdvanceTM technology, a precise method of extracting active plant phytonutrients to provide natural, beneficial health support products through synergistic extracts*
May support normal healthy immune function through the use of ginger, pomegranate, and turmeric extracts*
What makes Phytorelief-CC different from other products?
There are plenty of effective plant extracts and formulas for immune support and cough and cold relief. However, many extracts are incomplete and are stripped of the other synergistic components in an effort to concentrate one active phytonutrient. Phytorelief®-CC has been developed using AlchemLife's proprietary PhytoAdvanceTM technology, which is backed by over 75 years of research and development. It allows products like Phytorelief®-CC to provide beneficial health support through the use of synergistic extracts to ensure absorption.Phytorelief®-CC is also evidence-based and backed by multiple clinical studies (Minerva Med. 2015 Oct 22)
Power of 'Phyto-actives'
PhytoRelief-CC® is packed with 'Phyto-actives' (most powerful active ingredients in medicinal plants) of Ginger, Turmeric & Pomegranate. These 'Phyto-actives' have been extracted using Alchemlife's proprietary plant molecular extraction technology called PhytoAdvance® which is backed by over 75 years of R&D. It is the power of these 'Phyto-actives' that helps PhytoRelief-CC® provide natural effective relief from cold & cough and related symptoms.
Turmeric (Haridra)
Curcumin, one of the active ingredients in Turmeric, has shown potential with respect to immune-modulatory effects and may help improve immune functions. It has also shown to have potential antimicrobial and antioxidant effects to possibly help treat symptoms associated with cold and flu*.
Pomegranate (Dantabija)
Pomegranate extract contains powerful antioxidants such as tannins, anthocyanins and ellagic acid that can potentially boost the body's natural defenses against flu and cold viruses by fighting off free radicals*.
Ginger (Zingiber Officinale)
Gingerol, an active ingredient found in Ginger, has been shown to have potential anti-inflammatory effects which can positively impact symptoms such as a sore throat and possibly even work to inhibit flu and cold viruses*.
Testimonials
"I use PhytoRelief-CC® a lot! And I take it every time I feel that my throat is hurting, or I feel any kind of cold symptom, and it's always with me, it's always in my pocket. The moment I put it in my mouth, it takes only a minute to get immediate relief."
"The first time I took PhytoRelief-CC®, I found it really strong. My face turned red and my friends laughed. But it also instantly makes me feel better. Since that moment, every time I start to feel my throat is scratching, I take PhytoRelief-CC®."
Superior Science with Clinically Tested Efficacy
Superior Science with PhytoRelief®-CC has been developed using AlchemLife's PhytoAdvanceTM technology for superior absorption to assist your immune system*. Published Clinical studies in renowned international journals have shown that the usage of AlchemLife's PhytoRelief®-CC lends well to an attacked immune system due to its anti-microbial, anti-inflammatory, analgesic & immunity boosting properties*.
Alchemlife® combines 75 years of knowledge, experience and trust with the power of nature and science to bring you products with unmatched safety and quality. Our botanical ingredients are natures support for health and wellness.
Clinical White paper report and Practitioner program available. Internationally published clinical studies
Why PhytoRelief®-CC Works
When you have a cold or the flu, you feel miserable and your whole life is basically on hold. You can't function at your best physically or mentally, you miss out on social occasions and you can easily fall behind in your work. There are several over-the-counter options that may help with general health; however, many of these options contain synthetic active ingredients that can lead to other side effects.
PhytoRelief®-CC combines all-natural ingredients including a specially processed blend of pomegranate extract, turmeric and ginger to have a potentially positive impact on cold and flu relief. These extracts are harnessed using our exclusive PhytoAdvanceTM technology for superior absorption..